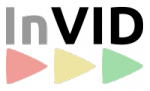 The InVID innovation action develops a knowledge verification platform to detect emerging suspicious stories and assess the reliability of newsworthy video files and content spread via social media.
The digital media revolution and the convergence of social media with broadband wired and wireless connectivity are bringing breaking news to online video platforms. To illustrate the story, news organization's delivering information by Web streams and TV broadcast often rely on user-generated recordings of breaking and developing news events shared by social media. However, in video there is also deception.
Access to increasingly sophisticated editing and content management tools, and the ease in which fake information spreads in electronic networks, requires reputable news outlets to carefully verify third-party content before publishing it. Of course, this procedure reduces their ability to quickly break news while also increases their costs (in times of tight budgets.)
In that process, the EU-funded project InVID has developed "Swiss Knife" for video verification. It provides different kind of tools for the users to assess the veracity of a video directly from their web browser:
The contextual verification tool provides more information about the channel, location and comments from Twitter, Youtube and Facebook public videos;
The video fragmentation tool fragments the video into keyframes in order to search by similarity on a wider variety of images taken from that video. This tool provides reserve search on six different video search engines to find the original video;
Youtube Thumbnails detects metadata of the video (similar to the Transparency International Metadata Viewer);
A Twitter advanced search allow to query by time interval up to the minute;
You can check video copyright status, to be sure what you can do with user generated videos from Youtube, Facebook and Twitter, and correctly attribute the authorship;
A forensic filter helps detect possible alteration of the picture.
Good news are that, despite technical developments in video falsification, the combination of tools available in InVID, makes it possible to detect most of the manipulated content.
In numbers, InVID is observing a growing uptake all over the world and currently has more than 9000 users over 144 countries. As a recent example of his success, it has been very used lately in India by BOOM Live to fact-check content virally spread on Whatsapp (read our previous webinar with BOOM team here).
InVID has been adopted by newsrooms around the world for fact-checking, as it works in many different languages. The community of users include journalists, media education scholars, human rights defenders and emergency response workers. Also, the open source intelligence community growingly uses it.
It is also remarkable the good acceptance and very positive feedbacks InVID has received from fact-checking experts. As a matter of fact, the plugin now serves as a platform for a community of users contributing to its improvement with their feedbacks.
This tool still has a long way to go since the team is now planning to enhance the platform and add more tools in another EU-funded project named "WeVerify" that will be built as complete digital companion to detect fake content and search already debunked stories into a blockchain database.
Denis is R&D Editorial manager at Agence France-Presse Medialab, which is one of the consortium's partners in InVID project.
The recording of this webinar is accessible upon request: ch@disinfo.eu